R20
This last weekend has brought international attention to Mother India while the country hosted many world leaders in Delhi for the G20 summit. And as we perceive such meetings to be on a grand scale, the ways of the world are such with discussions, arguing, compromising and negotiating with fellow neighbors. Having recently returned to Rampur Gainda from the US, with a new visa in the passport, it is a reminder that the monastery project lays in the conventional world of boundaries, negotiations and arguments while establishing a forest sanctuary in the midst of rural India. 
Upon arriving back in New Delhi from the US two weeks ago, I was greeted at the airport by Novice Khemarato and Raj. By coincidence there was a band playing at the arrival hall as I spotted Raj with a Cheshire cat smile, enthusiastically waiving his fingers like a musical conductor as if to say, 'this is for you Ajahn!'. Quite a warm (literally!) and humorous way to arrive back to the mother land.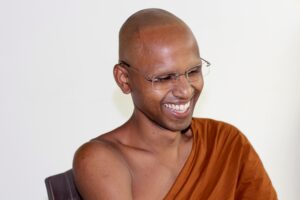 Novice Khemaratto (previously known as Vaibav) returned briefly here from Wat Pah Nanachat to visit the Thai embassy in Delhi to organize his visa with the immigration department. Khemaratto has recently taken novice ordination in Thailand and has begun his training with the community at WPN.  Having success at the embassy, he will be allowed to continue to live in Thailand and not have to do anymore visa runs.(as far as I understand). While he was visiting India he was able to spend a short time in Rampur Gainda and visit the monastery land and help things settle at the new home down the road. Our paths crossed briefly in Delhi as I headed north and he headed back to Thailand, a chance for a brief visit together.
Another crossing of paths was with Rahul as he dropped in to visit me at Dhammarama. Rahul has been working for AVT for the past year. He has been helping and supporting the monks, and the work, in Yamunanagar and Rampur Gainda while we have begun making a presence near the monastery land. He has been a good friend, a decent cook and great teacher, especially while he was learning to drive a car, bringing one back to the present moment with the contemplation of death. We all enjoyed his company, his good natured attitude and his priceless smile. Rahul is now preparing to do some traveling around Thailand, Vietnam and other countries in S.E. Asia. Wishing him safety on his journey. Thanks Rahul.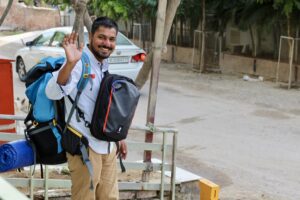 And back to the New Delhi arrivals musical conductor, Raj. After some visits and longer stays, serving the monks and helping with the project, he has agreed to join us for a period of time to help with the various projects now taking shape in Rampur Gainda.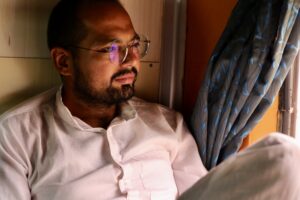 He has taken on the role to help with the management of the accounts and projects, and has been extremely useful with current negotiations our neighbors. He is a very good addition to the scene here and also brings along a humorous and warm attitude, along with an inclination to practice Dhamma and explore more about the monastic culture.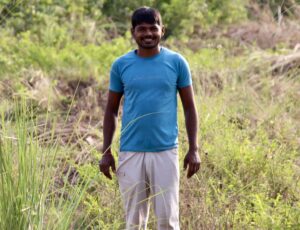 Along with Raj, we now also have a young local fellow Mukesh working with us. He has taken over for Chef Rahul in the kitchen and also runs local errands,  along with overlooking any work done by laborers on the land. Mukesh lives right next to the monastery land with his family and his wife and has a variety of skills which are useful for his role with us.
While I was away in the US, Mahapanyo kept things going here on the ground while overseeing the beginning of a few projects including the establishment of the boundary with fencing and bio-fencing and monitoring the floods and how the water moves through (and washes away) the land. He was able to keep me in the loop with what was happening while here and at home when he was caring for his father. He was also instrumental with the forest department who came and presented a government scheme which has resulted in the plantation of many trees on the land, which was underway as I returned to the area and is now just wrapping up.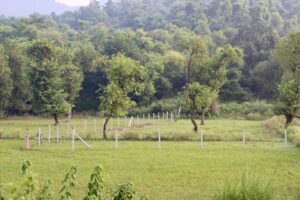 A large portion of the 28 acre land has been planted with a variety of local trees which have been planted very orderly, in straight lines, and each line is a different variety. Tree saplings such as Jamun, mango, Arjun, Peepal, Banyan, Amla, and Imli are all part of the landscape as they stand at about 2-3 tall already. The forest department has a very healthy supply of tree saplings which have already been nurtured for a couple of years, so they are already fairly big compared to other nursery options. There was a large amount of weeding which had taken place with the removal of Lantana bushes and tall grasses which were suffocating the land and would hinder the growth of new trees. There were large groups of labors who came, all under the watch of the forest department, who did the work of lining, digging, planting, weeding and watering with some help from machines such as tractors, JCBs and hole digging implements. The forest department will continue to help in the maintenance of the forest for the next 3 years, and have also agreed to plant large amounts of bamboo around the land, especially on the areas which are vulnerable to soil erosion
.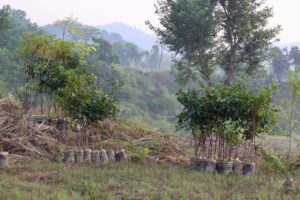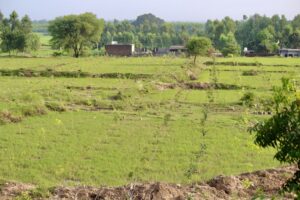 This project, or scheme from the forest department, called 'Amrit Van' has been an incredible stroke of good luck for the monastery. The amount of time, effort and financing that this has saved us is very sizable and it was done very swiftly and professionally. As the recommendation from many of our Elders was to get some trees planted, we can now say we are on the right track. Wishing 2 or 3 years, these trees will begin to offer more shade and privacy to the land and support the restoration of a natural environment. The amount of birds, animals and insects that this will draw will really support the regrowth of a local forest, a suitable place to build a forest monastery.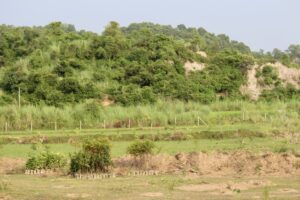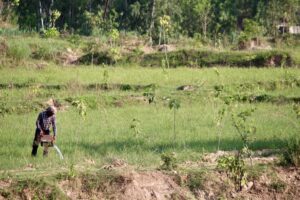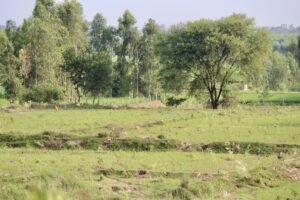 With the amazing efforts of the forest department, the beginning of our forest has taken root and the land has changed dramatically. However, as it was observed in the monsoon and is also pretty obvious when dry, there will have to be attention made on the soil conservation and water flow that comes through the property. We have made contact with the Soil Conservation department and they have shown interest in helping us in this area, depending on their budget. It will be necessary to create ways to harness all the water that flows through during the heavy rains, ways to slow it down, channel it and even capture it in ponds. This kind of work can be very expensive and we are hoping that we can receive useful advise, and support with this effort. We will need to protect this new forest which has been planted, and also keep any structures we build from being damaged or washed away.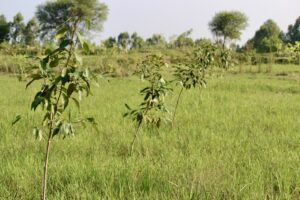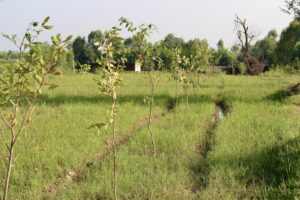 In regard to building, there was one area which has been specifically marked out and left free of any planting. Since the forest department has asked that we not interfere (too much) with the trees for the next 3 years, we have kept one field which we know is safe from floods. There is a current concept and design being made by an architect, Savneet, and her team at Imarat studios. I made a connection with her before leaving for the US through another architect, Kabir, and we are currently designing and preparing for our first phase of construction. This phase will include a kitchen, dining area for both monks and lay people, some toilets, and 3 individual rooms. Savneet and team have been extremely generous with their time and skills, and are preparing the drawings and designs as an offering to the monastery.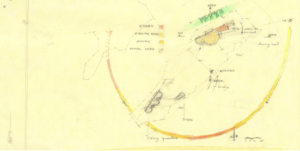 There are some other large projects which are on the near horizon which are all competing for the top spot in terms of priority. With the development of the monastery we have been establishing our boundary, which has included some negotiations with neighbors regarding encroachments and such like 'hiccups' and hasn't been straight forward. One outcome of this is that since the entry road to the monastery is not completely owned by AVT, we will have to create an entrance from the main road into the campus. There are two areas which will have to be filled in, and then formed into a road which is all completely within our boundary and can not be disputed by anyone. We are currently awaiting an estimate from a local engineer as to the cost and execution of the project
.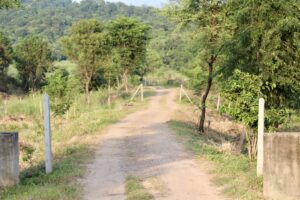 Another project which may also need to happen soon, again related to our boundary, is the building of a wall. We are also waiting for an estimate on the costs of building a wall and feel that it may be needed to establish the front boundary of the monastery. There are some areas which have been disputed, and another area where our fence keeps getting broached, so it seems that the only option we have it to have a proper wall built in this area. The fencing and posts which are already in place could be replaced and then used in the back areas of the property where a wall isn't necessary (I hope). This will likely happen in three phases, starting with the most sensitive areas of the boundary line. 
As Tan Mahapanyo and myself have determined our yearly rains retreat (actually we had to do second vassa) along with Raj determining the 8 precepts for the three month period, there is a feeling that we are moving in the direction of creating a local monastic community. There has been an incredible amount of effort already made in the efforts to establish a forest monastery in India. So much effort has been happening 'behind the scenes' by so many people to get to this point, and it will take a continued effort to create the environment conducive to a forest monastery. There has been an incredible amount of generosity from many people which has supported the project to this point. Anumodana for all the support and may the efforts serve as positive conditions for the practice.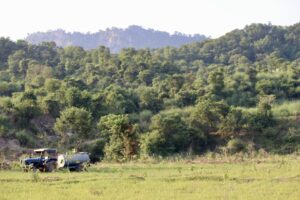 ****I'll figure out how to upload pictures soon with better quality. Thanks.