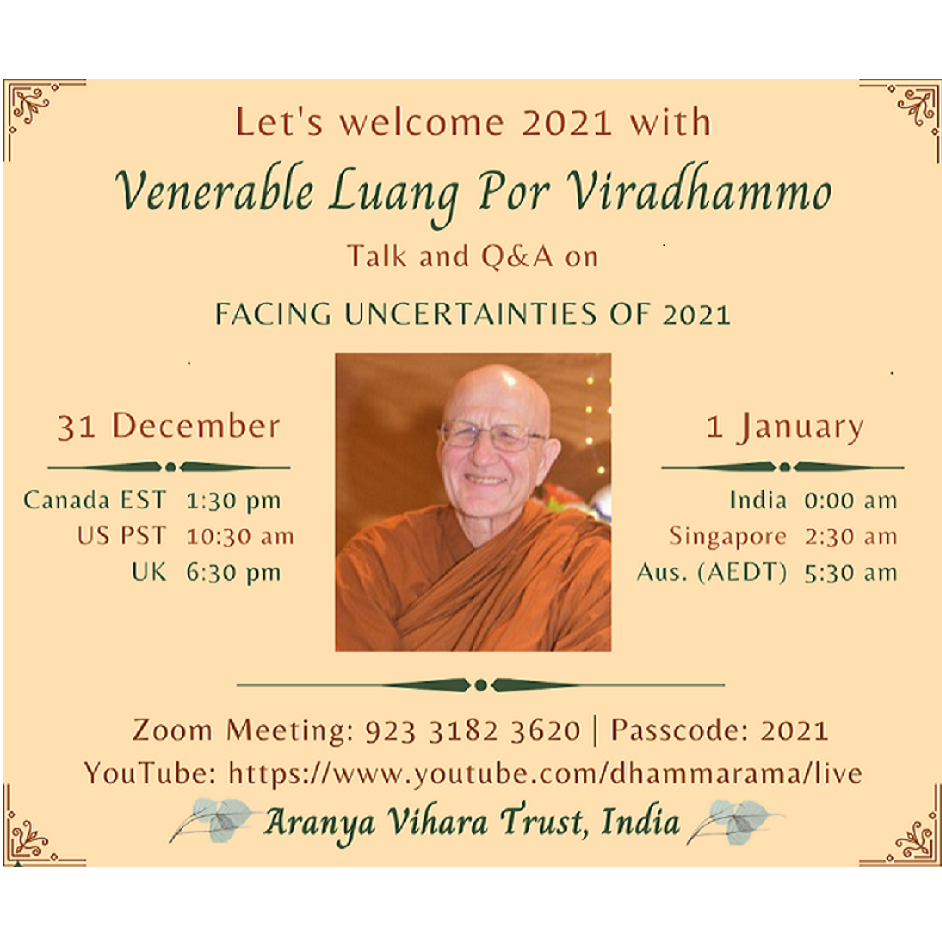 Welcoming 2021 with Venerable Luang Por Viradhammo
Aranya Vihar Trust is very happy to announce a Dhamma Session with Venerable Luang Por Viradhammo to usher in the New Year 2021. The programme starting on December 31 will be in two parts. Part 1 will be bilingual – in Hindi and English. Part 2 will be only in English. The details along with time of Luang Por's talk in various time zones across the world are provided below. 
Topic:  Facing Uncertainties of 2021   — Talk and Q&A
Date and Time of the Talk 
December 31, 2020                  January 1, 2021
Canada EST: 1:30 pm               India: 00:00 am
      US PST: 10:30 am                Singapore: 2:30 am
                UK: 6:30 pm                  Australia (AEDT): 5:30 am
Luang Por Viradhammo is the most senior Thai Forest monk in Canada. He is currently the Abbot of Tisarana Buddhist Monastery in Perth, Ontario.
Details of the two-part programme (the timings given are in IST)
Part 1: 10:30 pm to 11:45 pm
Bilingual – in Hindi and English
10:30 pm: Opening
10:35 pm: Presentation on Bhaddekaratta Sutta (MN 131) by Mr. Hari
11:30 pm: Mettapharaņam and Brahmavihara chants
11:45 pm: Photo presentation on the life and teachings of Luang Por Viradhammo
Part 2: 0:00 am to 1:30 am
Session with Ven. Luang Por Viradhammo
0:00 am: Welcoming Luang Por
0:10 am: Dhamma desana on 'Facing uncertainties of 2021'
0:40 am: Q&A
1:20 am: Metta and sharing of merits
1:30 am: Closing
YouTube Live Streaming: Dhammarama Live Channel
All are cordially invited.