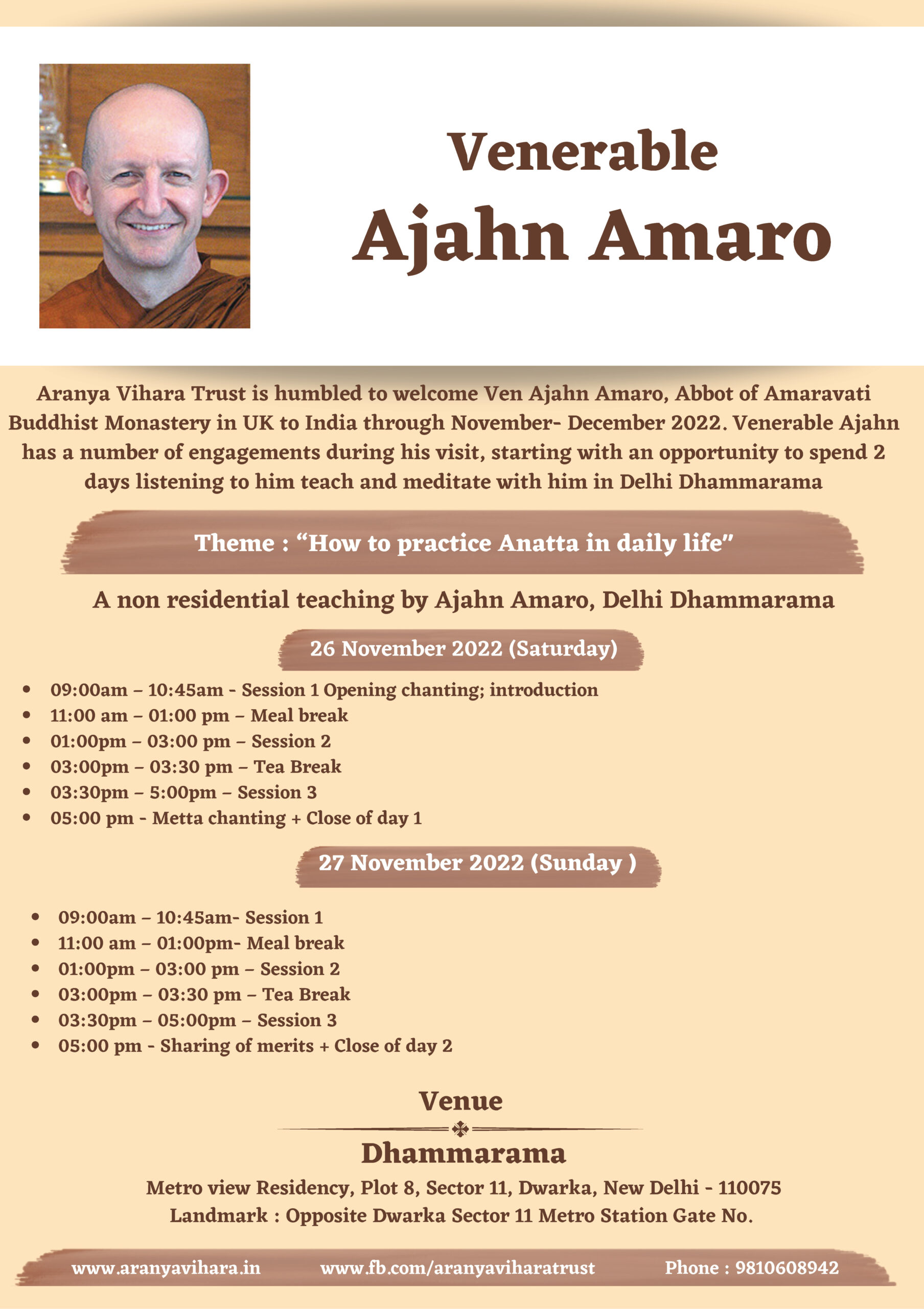 Retreat by Venerable Ajahn Amaro
Aranya Vihara Trust is humbled to welcome Ven Ajahn Amaro, Abbot of Amaravati Buddhist Monastery in UK to India through November- December 2022. Venerable Ajahn has a number of engagements during his visit, starting with an opportunity to spend 2 days listening to him teach and meditate with him in Delhi Dhammarama
Theme : "How to practice Anatta in daily life"
A non residential teaching by Ajahn Amaro, Delhi Dhammarama
26 November 2022 (Saturday)
09:00am – 10:45am – Session 1 Opening chanting; introduction
11:00 am – 01:00 pm – Meal break
01:00pm – 03:00 pm – Session 2
03:00pm – 03:30 pm – Tea Break
03:30pm – 5:00pm – Session 3
05:00 pm – Metta chanting + Close of day 1
27 November 2022 (Sunday )
09:00am – 10:45am- Session 1
11:00 am – 01:00pm- Meal break
01:00pm – 03:00 pm – Session 2
03:00pm – 03:30 pm – Tea Break
03:30pm – 05:00pm – Session 3
05:00 pm – Sharing of merits + Close of day 2
Venue Dhammarama: Metro view Residency, Plot 8, Sector 11, Dwarka, New Delhi – 110075 Landmark : Opposite Dwarka Sector 11 Metro Station Gate No.
Please use follow link to register for Ajahn Amaro Retreat: https://docs.google.com/forms/d/e/1FAIpQLScsiUbDBrSSVWxsbExJTOuhAzRP5R10m7498PWYobLKp4eIBQ/viewform
Notes
For the 2 day teaching in Dhammarama, you are welcome to bring a dish to offer for the Please bring your dish by 10:30am and contact the manager (Rahul – 8979268717)
Ajahn Amaro also has other public engagements during his forthcoming trip to These are listed below. Please contact the respective organisers for details of these events.
Talk under the Bodhi 2 December 2023, International Tipitaka Chanting Ceremony, Bodh Gaya. https://lbdfi.org/
"Sakkāydițțhi — 'self-view', the first obstacle to enlightenment' led by Ajahn Amaro. Residential teaching at Deer Park. 5 – 10 December 2022. https://deerpark.in/events/buddhist- retreat-by-ven-ajahn-amaro/
About Venerable Ajahn Amaro
Born in England in 1956, Ven. Amaro Bhikkhu received a BSc. in Psychology and Physiology from the University of London. Spiritual searching led him to Thailand, where he went to Wat Pah Nanachat, a Forest Tradition monastery established for Western disciples of Thai meditation master Ajahn Chah, who ordained him as a bhikkhu in 1979. Soon afterwards he returned to England and joined Ajahn Sumedho at the newly established Chithurst Monastery. He resided for many years at Amaravati Buddhist Monastery, making trips to California every year during the 1990s.
In June 1996 he established Abhayagiri Monastery in Redwood Valley, California, where he was co- Abbot with Ajahn Pasanno until 2010. He then returned to Amaravati to become Abbot of this large monastic community.
Ajahn Amaro has written a number of books, including an account of an 830-mile trek from Chithurst to Harnham Vihara called Tudong – the Long Road North, republished in the expanded book Silent Rain. His other publications include Small Boat, Great Mountain (2003), Rain on the Nile (2009) and The Island – An Anthology of the Buddha's Teachings on Nibbana (2009) co-written with Ajahn Pasanno, a guide to meditation called Finding the Missing Peace and other works dealing with various aspects of Buddhism.
In July 2019, again with Ajahn Pasanno, he was honoured by the King of Thailand with the ecclesiastical title 'Chao Khun Rāja' and received the name 'Rājabuddhivaraguṇa'