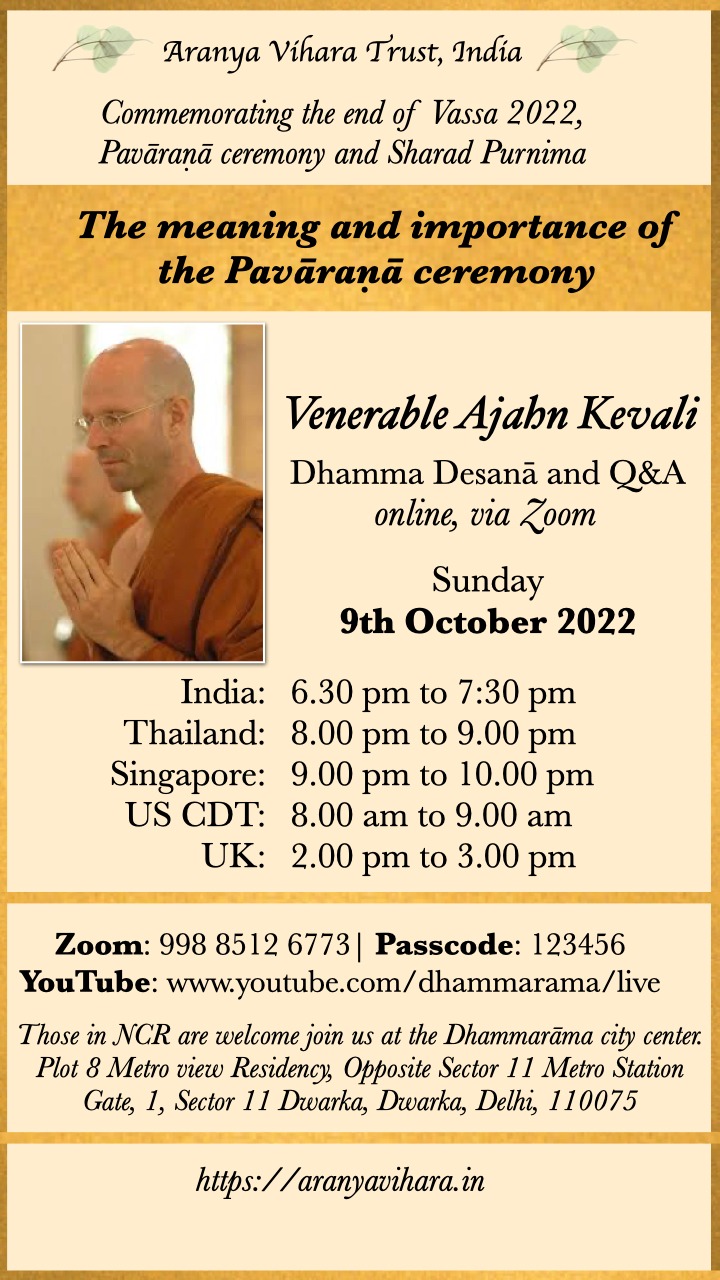 End of Vassa 2022 + Pavāraṇā + Sharad Purnima
Sharad Poornima, highlighted as the Pavarana Day in the Buddhist Calendar, marks the end of the 3 lunar months of Vassa or rains retreat.
After one of the early rains retreats the Buddha instituted the Pavarana Ceremony as a means for dealing with potential conflict and breaches of disciplinary rules during the vassa.
The Buddha said:
'I prescribe, O Bhikkhus, that the Bhikkhus, when they have finished their Vassa, hold Pavāraṇā with each other in these three ways: by what [offence] has been seen, or by what has been heard, or by what is suspected. Hence it will result that you live in accord with each other, that you atone for the offences (you have committed), and that you keep the rules of discipline before your eyes.'
In this manner, the monks invite admonishment from each other and use that as an opportunity to not only amend their external behavior but also as a means to reduce attachment to a sense of self.
In commemoration of this, Aranya Vihara Trust will observe 9 October (Sunday) 2022 with a special evening programm. Ajahn Kevali, the patron of the Trust, and the Abbot of Wat Pah Nanachat, will join us on this occasion, and offer a desana as well as take some questions:
Program Schedule:
6:30pm Opening chanting, including Parittas
7:00 pm "The meaning and importance of the Pavarana day/ceremony" . A talk by Ajahn Kevali (20 mins) followed by QA (15 mins).
7:35 pm Closing
All are welcome to come and join at Dhammarama for the program.
You can join the session live via the Zoom link:
https://us06web.zoom.us/j/99885126773?pwd=RHRmdFpmU3ArVWpNd1M1eGJjZExLZz09
Meeting ID: 998 8512 6773
Passcode: 123456
You can also watch the session live via YouTube www.youtube.com/dhammarama/live