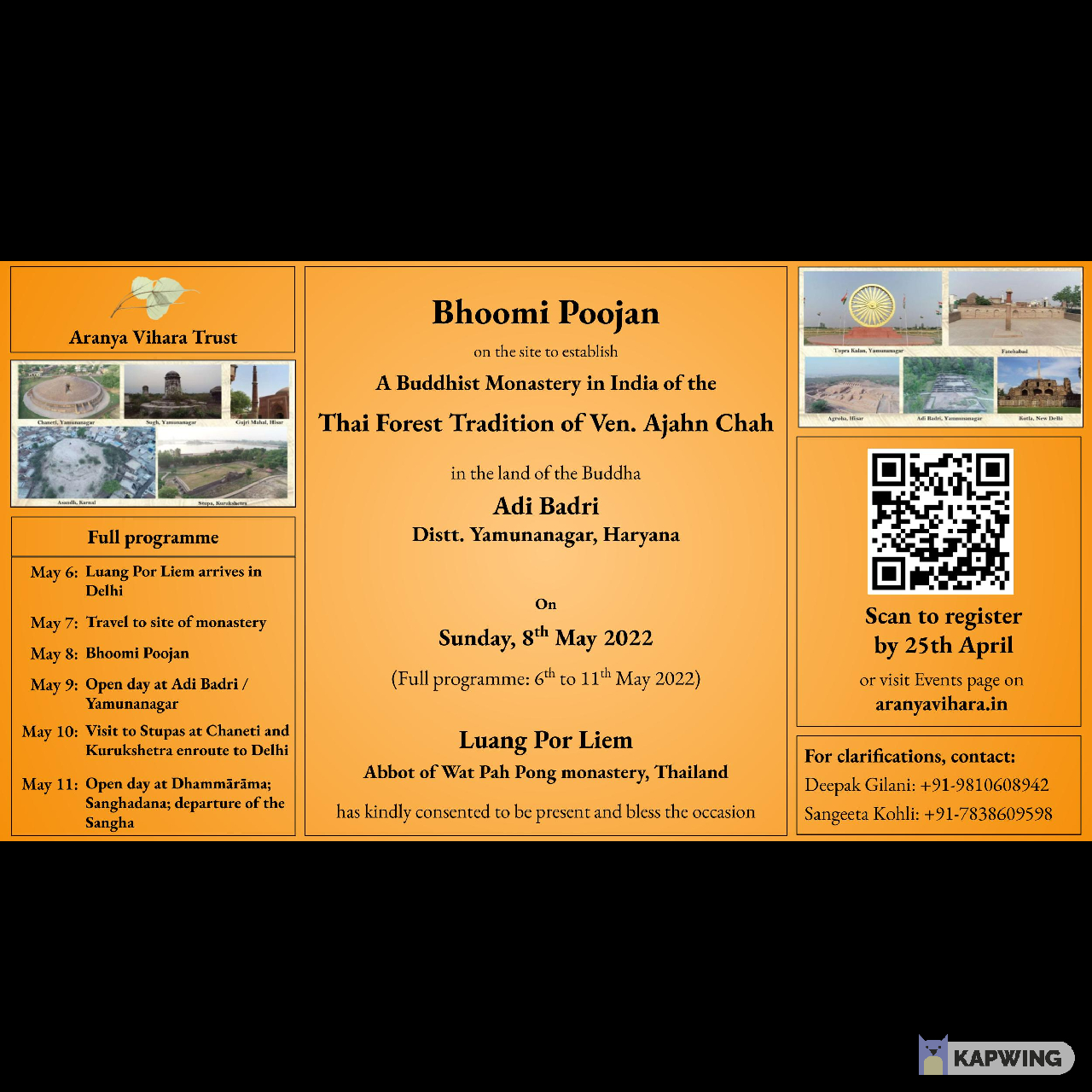 Bhoomi Poojan for Buddhist Monastery of Thai Forest Tradition
Bhoomi Poojan for Forest Monastery at Adi Badri, May 8, 2022
It gives us immense pleasure to inform you that after many years of search, a part of the land on which the Buddhist Monastery of the Thai Forest Tradition of Venerable Ajahn Chah is planned to be established in India, has finally been purchased. This site is situated in the Land of the Buddha, in the area of Adi Badri, district Yamunanagar -Haryana, very close to an ancient Buddhist monastery excavated by the archeological department.
The Bhoomi Poojan is proposed to be held on the 8th of May 2022, and Luang Por Liem, the abbot of Wat Pah Pong monastery, Thailand, has kindly consented to be present and bless the occasion. The tentative program is as follows:
Friday, May 6: Luang Por Liem arrives in Delhi
Saturday, May 7: Travel to Yamuna Nagar – Adi Badri site of monastery
Sunday, May 8: Bhoomi Poojan and blessings by Luang Por Liem and other members of the Sangha
Monday, May 9: Open Day at Yamuna Nagar and Adi Badri
Tuesday, May 10: Return to Delhi, visiting some ancient Stupas en route.
Some documents containing description of Buddhist sites in Haryana and links from where more details can be gathered will soon be shared for information of the lay sangha.
Kindly register for the trip by 25th April 2022 at the following link so that we have enough time for planning transportation and hotels for night stay. While AVT would make necessary arrangements, the participants are expected to bear their own expenses of boarding and stay. Approximate expenditure per person would be between Rs 1500 to Rs 2000 per day. Details will be communicated once they are worked out.
https://forms.gle/mGXRuUsKb72HfMSX8
For any further clarifications, contact
Deepak Gilani at +91-9810608942
Sangeeta Kohli at +91-7838609598.
Yours in Dhamma
Aranya Vihar Trust