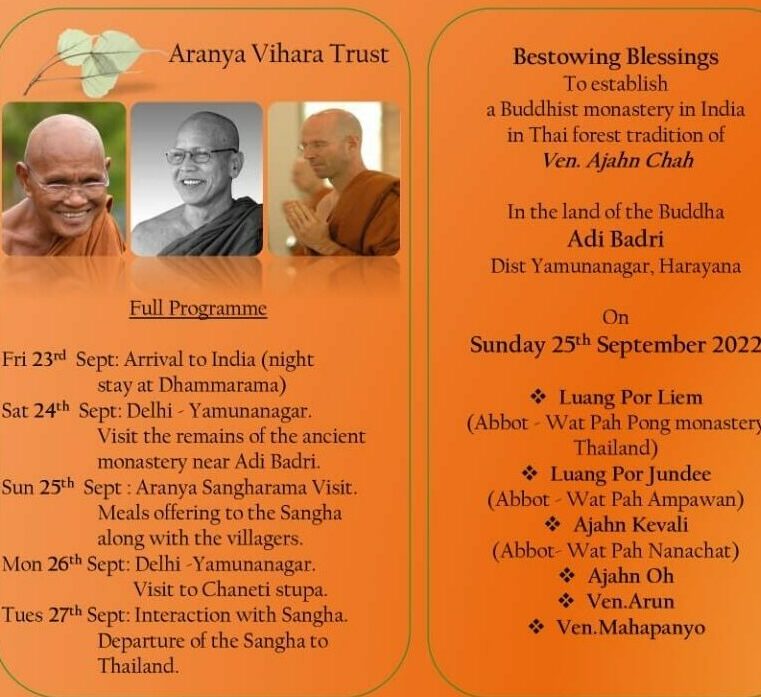 Visit of Luang Por Liem and the Venerable Sangha to bless the Upcoming Monastery Arañya Sangharāma
After the Bhoomi Poojan held on May 8, 2022 at the site of Aranya Sangharama, we are having the good fortune to welcome  Luang Por Liem along with the Venerable Sangha  in September 2022 to give their blessing to the upcoming Monastery.
The program of their visit is as follows:
Visit of Luang Por Liem to Aranya Sangharama – Gainda Rampur village dist Yamunanagar
Fri 23rd September  (night stay at Dhammarama)
Arrive into Delhi by BKK – DEL  TG 315 – D17:55 – A 20:55
Sat 24th Sept Del – Yamunanagar
Days program
Meals offering on the way

Arrive at Yamunanagar; rest for a few hours

Visit the remains of the ancient monastery near Adi Badri.

Night stay in Yamunanagar
Sun 25th Sept  Yamunanagar – Aranya Sangharama Visit
Days program
Depart for Adi Badri site after breakfast at Yamunanagar

Chanting and blessings by Luang Por Liem and the Venerable Sangha

Meals offering to the Sangha along with the villagers of Kathgarh and Gainda Rampur at Aranya Sangharama

Meditation and Desana by the Sangha

Visit to Museum and ancient site

Night stay in Yamunanagar
Mon 26th  Yamunanagar – Delhi
Days program
Visit Chaneti Stupa

Depart for Delhi after meals in Yamunanagar

Visit Kurukshetra Ancient Monastery on the way back

Reach Delhi by late evening.
Tues 27th Sept Delhi
Meals offering to the sangha

Interaction with Sangha in the afternoon

Forgiveness ceremony in the evening

Departure for Thailand
Del – BKK TG 316
D 23:30 – A 05:25
Kindly register for the trip by 25th August 2022 at the following link so that we have enough time for planning transportation and hotels for night stay.
While AVT would make necessary arrangements, the participants are expected to bear their own expenses of boarding and stay. Approximate expenditure per person is likely to be between Rs 2000 to Rs 2500 per day. Details will be communicated once they are worked out. https://forms.gle/KGeAyYnvpEhnLBMN9
For any further clarifications, contact
Deepak Gilani at +91-9810608942
Kamal Saxena at +91- 9910066624
Yours in Dhamma
Aranya Vihara Trust