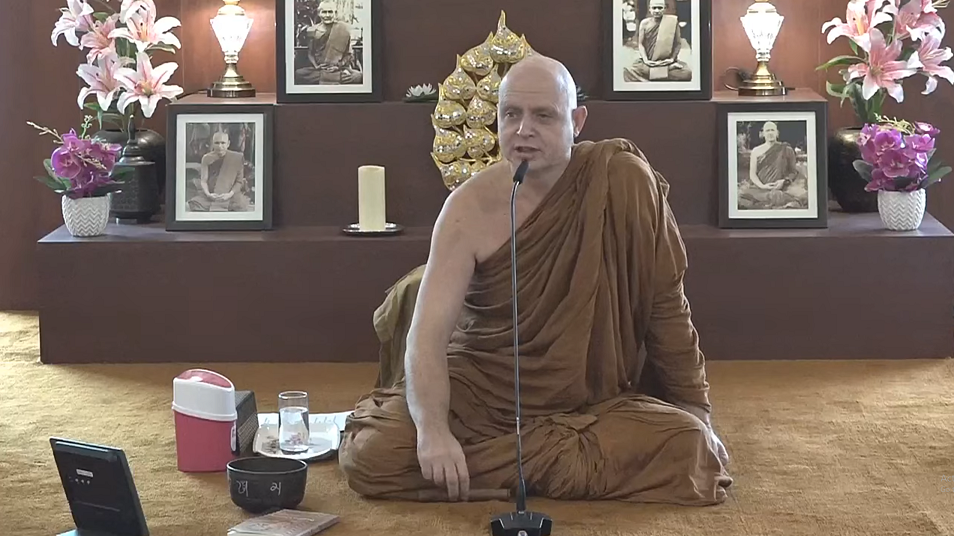 Venerable Ajahn Jayasāro in New Delhi
Aranya Vihara Lay Sangha was honored to witness a visit by Ajahn Jayasaro. He was accompanied by other monks – Ajahn Appamado from Portugal, Bhikkhu Vipassi from Hyderabad and Tan Mahapanyo from Delhi. Kindly refer here to know about the visiting monks.
6 January: The monks' visited Prakriti School in Noida, where the children offered food in the monks' bowls following the traditional practice of pindapata. Ajahn Jayasaro answered the questions posed by the children and the staff. The kids were curious to know why he didn't keep hair, why he wore a monk's dress, and what can one do with the negative thoughts that arise in the mind. With his extensive experience in the Thai education system, Ajahn answered all the questions in a manner that the children could understand and relate to.
Thereafter Ajahn delivered a short public talk at the school and further answered the varying questions people had about meditation.
7 January: Ajahn was kind to invite lay people during his morning walk for informal and personal interaction. This was the day of Ajahn's 62nd birthday, which he chose to observe by offering respect to the relics of the Buddha at National Museum. The monks and lay disciples circumambulated the relics and meditated in silence.
In evening, he rendered a public talk at IIT Delhi on the topic – "The Heart of the Matter – Engineering a life with meaning". In a visible contrast to his reach to children at Prakriti with simple stories, his talk was sprinkled with scientific verbiage and mind-related research findings to address the brightest students of the country at IIT, the faculty and members of public. Students hung around for long after the talk to learn more from him about the Buddha's teachings and their relevance in our lives.
8 January: Ajahn led a day of chanting, meditation, teaching and Q&A session at Dhammarama. Despite being a rainy day in chilly winter, the faithful and interested came and benefitted from the teachings of the eloquent and ever-still Ajahn.