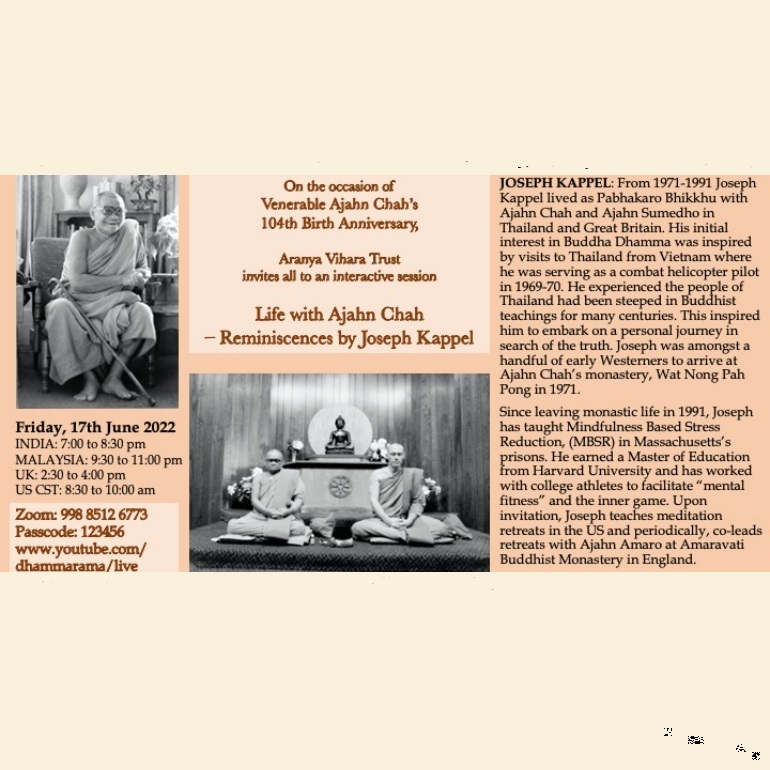 Ajahn Chah's 104th Birth Memorial
On 17 June 2022 we will observe our teacher, Luang Pu Chah's, 104th birth memorial. For many of us Ajahn Chah has been the conduit to the Buddha's teachings in a down to earth, easy to understand, and sometimes, even humorous way. We will mark this auspicious day by being in the company of one of Ajahn Chah's closest western disciples, Joseph Kappel.
Joseph Kappel will join us from 7:00 pm to 8:30 pm India time. The schedule is as follows:
7:00 pm – Opening chanting
7:05 – 7:45 pm : Life with Ajahn Chah – Reminiscences by Joseph Kappel
7:45 – 8:25 pm : QA with Joseph Kappel
8:25 – Closing chanting
Zoom meeting:  Click link to join
Meeting ID: 998 8512 6773
Passcode: 123456
About Ajahn Chah
Reminisces of Ajahn Chah by his western students
About Joseph Kappel
From 1971-1991 Joseph Kappel lived as Pabhakaro Bhikkhu with Ajahn Chah and Ajahn Sumedho in Thailand and Great Britain. His initial interest in Buddha-Dhamma was inspired by visits to Thailand from Vietnam where he was serving as a combat helicopter pilot in 1969-70. During those first encounters in Thailand, he experienced the people and country that had been steeped in Buddhist teachings for many centuries. This inspired him to inquire more deeply and embarked on a personal journey in search of the truth.
The contrast was palpable, arriving from a mission of death and destruction engaged in aerial assaults in Vietnam, Joseph was lifted by a commercial aircraft less than 2 hours away and dropped into Bangkok, for R&R (Rest and Recuperation). Here he witnessed for the first time Buddhist monks walking silently at dawn to collect their daily alms. The stage was set for the seed of Buddha-Dhamma to be more fully nourished and to grow into the heart of the monk to be.
Joseph was amongst a handful of early Westerners to arrive at Ajahn Chah's mother monastery, Wat Nong Pah Pong in 1971. Ajahn Sumedho had arrived in Thailand in 1966 and became Ajahn Chah's first Western student. At this time, two other Westerners were also there, Jack Kornfield and Doctor Douglas Burns, but they only remained a short while.
Since leaving monastic life in 1991, Joseph has taught Mindfulness Based Stress Reduction, (MBSR) in several Massachusetts's prisons. He also earned a Master of Education from Harvard University and has worked with college athletes to facilitate "mental fitness" and the inner game. Upon invitation, Joseph teaches meditation retreats in various settings in the US and periodically, co-leads retreats with Ajahn Amaro at Amaravati Buddhist Monastery in England.
These days Joseph is deeply influenced by Ajahn Sumedho's tireless teaching example, pointing the way to transcendence of the human condition. Most simply understood as ultimate consciousness, where all conditions cease and there is the abiding of oneness for those bold enough to witness it for themselves. In Ajahn Sumedho's words, "It's Like This".
A short introduction to Joseph Kappel by Ajahn Amaro in this talk https://amaravati.org/audio/day-1-introduction/ from 1:40 to 4:00
Dhamma talks by Joseph Kappel:  You may see here or here