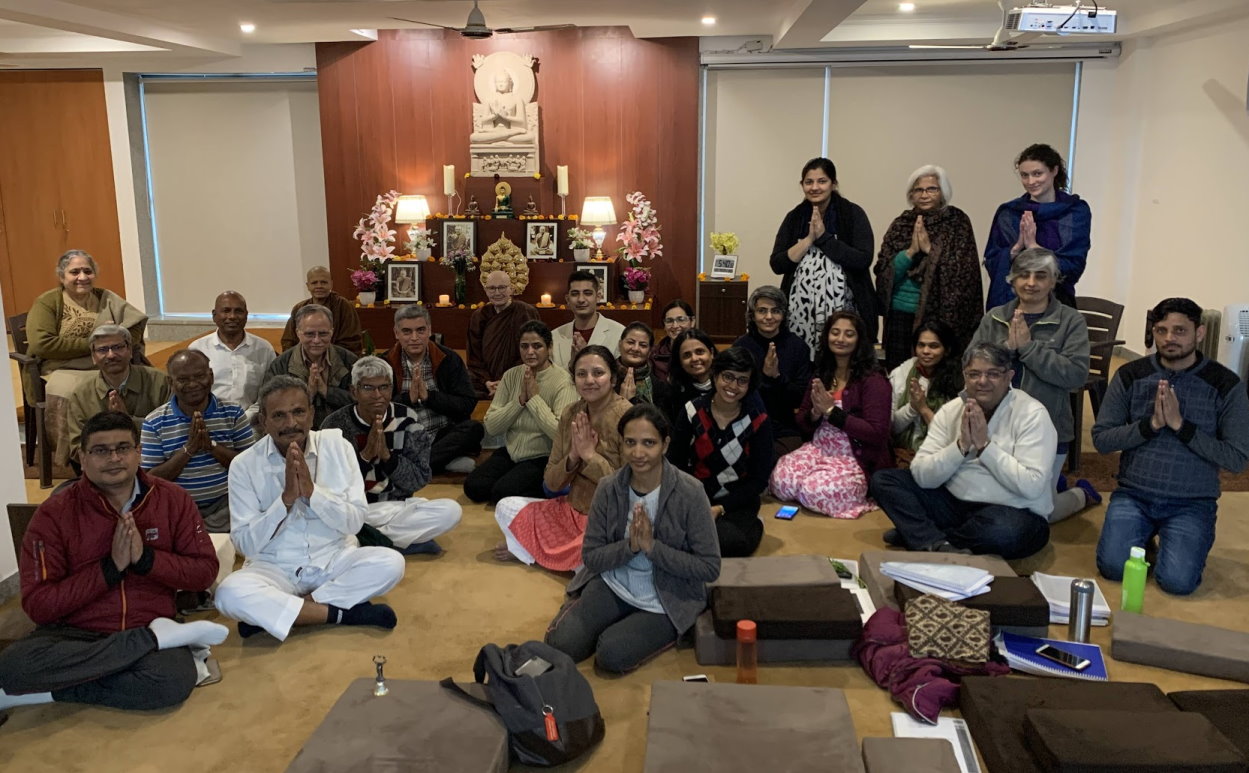 Venerable Ajahn Candasirī in Dhammārāma
Venerable Ajahn Candasirī is one of the first and most senior Siladhārā nuns in Ajahn Chah's tradition. She is the abbess of Milntuim Hermitage for nuns in Scotland.
Born in Scotland in 1947, Ajahn Candasirī worked as an occupational therapist, mainly in the field of mental illness. An interest in meditation led her to meet Venerable Ajahn Sumedho in 1977. Inspired by his teachings and example, she undertook monastic life in England, with Ajahn Sumedho as the preceptor. She spent her initial years at Cittaviveka and Amaravati Monasteries.
She was in Dhammārāma from January 27 to February 14, 2020, and was accompanied by Sister Khemakā.
Ajahn led a residential retreat from January 31 to February 7, 2020 (Friday to Friday) at Dhammārāma. The Retreat theme was Kindness and Anatta.
A forgiveness ceremony was also conducted on February 14, 2020 (Friday) at Dhammārāma.
SCHEDULE
Retreat started: 31st January (5 pm)
Retreat ended:: 7th February (5 pm)
Friday 31st January (OPENING DAY)
Arrivals and registration till 5:00 pm
5.00 pm – 6.00 pm : Orientation & Tea
6.00 pm – 6.45 pm : Evening chanting and meditation
6.45 pm – 8.00 pm : Desana and Q&A
8.05 pm – 8.30 pm : Hindi Summary of evening session
Saturday 1st February to Thursday 6th February
5.30 am – 6.30 am: Meditation
6.30 am – 8.30 am: Breakfast and Rest
8.45 am – 9.45 am : Morning chanting and meditation (sitting/walking)
9.45 am – 11.00 am : Morning reflection
11.00 am – 12 noon : Meal offering
12 noon – 1.30 pm : Rest
1.30 pm – 2.00 pm : Hindi summary of morning session
2.00 pm – 3.30 pm : Q&A and Dhamma discussion
3.30 pm – 3.40 pm : Break
3.40 pm – 5.00 pm : Sitting and walking meditation
5.00 pm – 6.00 pm : Tea break
6.00 pm – 6.45 pm : Evening chanting and meditation
6.45 pm – 8.00 pm : Desana and meditation
8.05 pm – 8.30 pm : Hindi Summary of afternoon and evening sessions
Friday 7th February (CLOSING DAY)
5.30 am – 6.30 am: Meditation and Chanting
6.30 am – 8.30 am: Breakfast and Rest
8.45 am – 9.45 am : Morning chanting and meditation (sitting/walking)
9.45 am – 11.00 am : Morning reflection
11.00 am – 12 noon : Meal offering
12 noon – 1.30 pm : Rest
1.30 pm – 2.00 pm : Hindi summary of morning session
2.00 pm – 3.30 pm : Q&A and Dhamma discussion
3.30 pm – 3.40 pm : Break
3.40 pm – 4.30 pm : Closing
4.30 pm – 5.00 pm : Tea
Retreat ended at 5.00 pm
Friday 14th February (Forgiveness Ceremony)